For over twenty years Eternity Bridal has been a leading bridal design house. Amanda Bradwell works with her husband Andrew Bradwell to keep this a truly family affair. What makes Eternity Bridal so special is not only can they offer you a designer dress at a really great price, but also the way that their design team has always focused on catwalk fashion and drawn out key elements to introduce into each year's bridal collection. With a clear set of keeping romance at the heart of their designs, this bridal house offers a range of options that will suit the bride who has always dreamed of a wedding high in charm.
We perused Eternity Bridal's racks and were taken by a number of gowns that we think will be outstanding wedding dresses this year.
Eternity Bridal collection in detail
First up is D5529, a truly alluring tulle confection in full princess style, with an elegant V neck rising to a slightly draped almost off the shoulder style. The generously beaded waist detail gives this dress interest and makes it a perfect choice for a winter weddings where the beading offers echoes of snowflakes, ice and star studded night skies.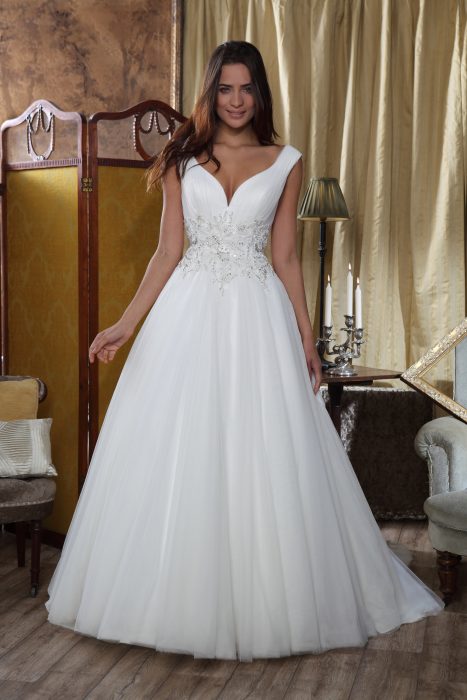 Very different in style is D5516, a strapless A-line satin gown with a self-tie waistband. This dress is distinguished by a removable organza jacket that has a stunning covered back button design (back buttons are big in all this year's bridal collections). A full skirt falling to create a short train adds a softening element to the gown.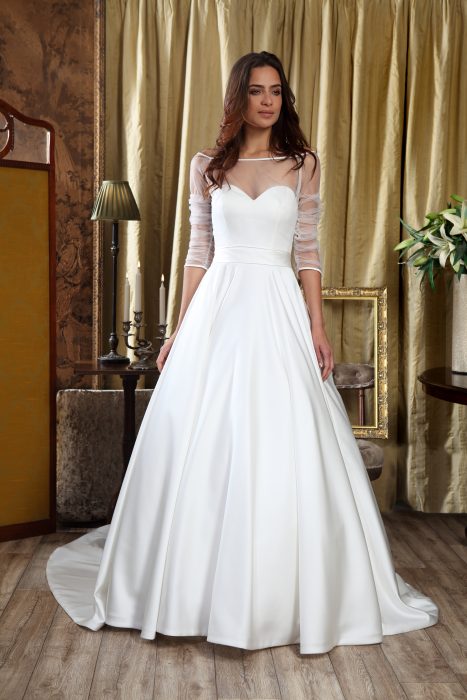 If trains are your passion, then D5422 is the bridal gown for you. Available in ivory or white, it offers a V neck and a breathtaking double train that highlights the dress's lace fabric. A keyhole back gives added detail to the rear of the dress. For those who are walking a long aisle, a gown with real rear interest is a must, and this design is just right for such occasions.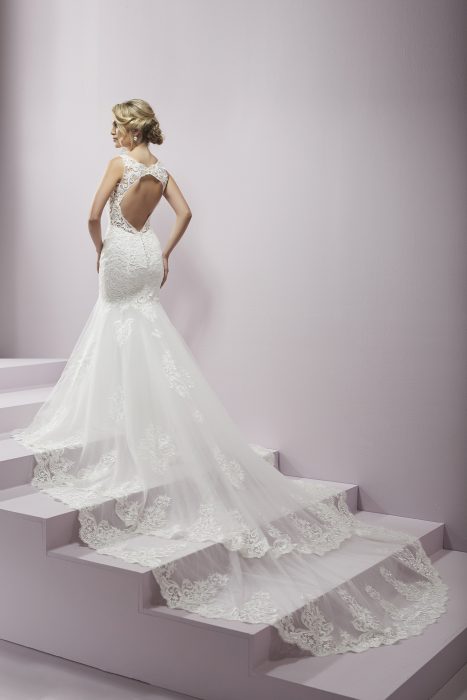 Of course not every bride wants to wear white, or even pastels, and D5221 is a perfect example of how strong jewel colours can be made 'wedding wonderful'. This A-line satin gown balances a pleated bodice with a self tie waistband and this year's ubiquitous button back detailing to create a dress that is lush without being fussy. For the bride who loves the Golden Age of cinema, or one who knows she rocks a decadent dress, this is a definite winner. Available in ivory or white, this gown is also resplendent in red – a shade that many brides might shy away from but that works brilliantly on this occasion.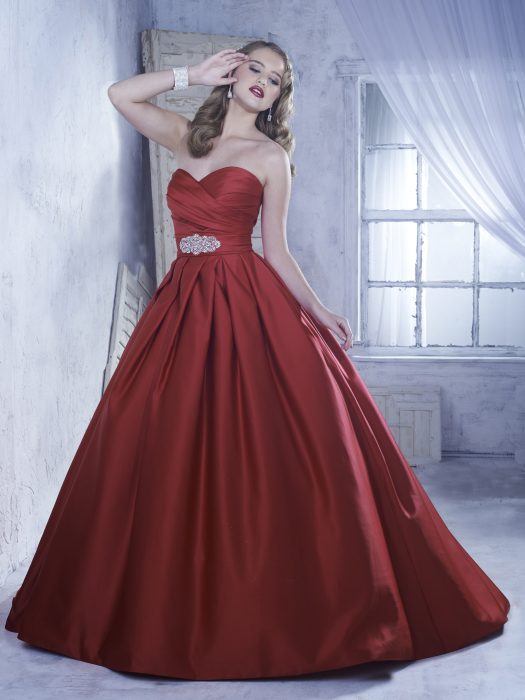 At the opposite end of the spectrum, D5536 is a minimalist dream with clean lines, an elegant collar that falls away to a dramatic V back, a broad satin waistband and (of course) covered buttons concealing the back zip. Crisply white and uncompromisingly stylish, this gown will delight the urban bride and those who love style without any frills.