Few wedding dress brands have as long a history as Justin Alexander, a designer brand that appeared way back in 1946. It was a response to a very specific period – a time when women were looking a fashion as an expression of personality and style. Since then it's been hitting the mark consistently, expanding from its Brooklyn origins to having a North American office and a European one, as well as office in London and Hong Kong. There are thousands of stockists worldwide who offer Justin Alexander's collections.
So to Fall/Winter 2018 – what should brides be aware of? Well, this year's autumn collection from Justin Alexander has a number of notable gowns that are real show stoppers. Let's be clear that show-stopper gowns are not for every bride – many of us just want a beautiful dress that draws gasps of delight, rather than surprise. However, a bride who wants a dress that is definitely going to be the talk of the town is likely to be naturally drawn to Justin Alexander's more theatrical designs.
Plunging lines and extravagant skirts – style 88021
This year that includes Style 88021, a ball gown style wedding dress on a full circular skirt with covered buttons that extend from the top of the cut out back all the way to the end of the train. Made of mikado silk, to give the extra weight and heft that a dramatic dress demands, the back bodice is ornamented with beading to give your guests something stunning to look at when you are standing in front of them and the plunge to the waist front neckline is definitely this year's 'Kardashian detail', it's just about as dramatic as a wedding dress can get. But make no mistake, this gown is still feminine and elegant – it's a delicate balancing act that Justin Alexander has pulled off brilliantly.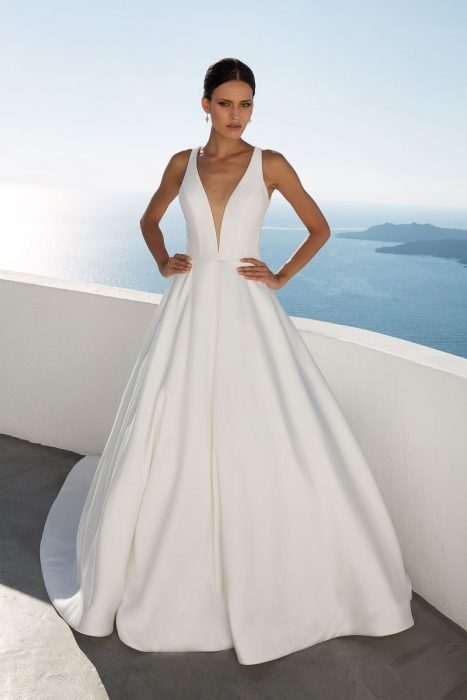 Pants to weddings – style 88000
Or more accurately, jumpsuits! For a destination wedding, brides can be more adventurous and this ensemble works very well with the stark white trousers of this jump-suit being cleverly offset by a V-neck lace top. The back of the bodice bears this year's Justin Alexander keynote, a row of covered white buttons, and the whole ensemble is exactly the kind of thing that one could imagine a supermodel choosing to wear to tie the knot.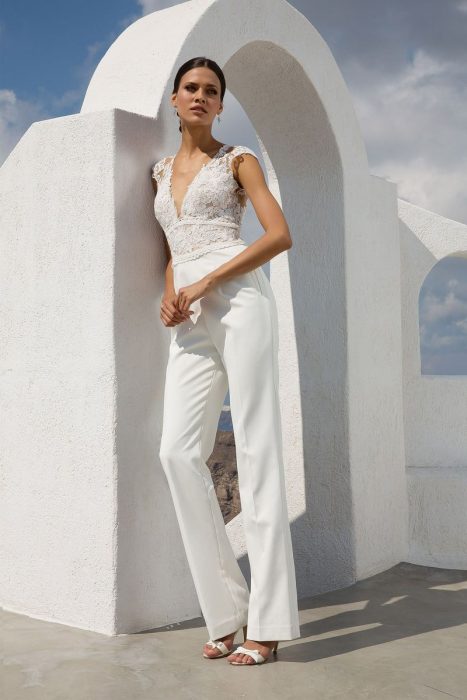 Sweet details in harmonious balance – style 88011
Justin Alexander isn't just about high drama. The brand produces many show-stopping gowns with more traditional styling and one of our favourites for this year is design 88011. Sometimes a designer can get carried away with too many delicious details, but in this wedding dress a whole array of delicious little features combine to make this dress an absolute sweetheart. The voluptuous sweetheart neckline is beaded lace, which follows the figure hugging dress all the way down to a tulle skirt bearing lace appliqués levitating on the ruffled tulle to create a mermaid silhouette right down to the sense of wavelets provided by the horsehair trim. It's utterly romantic, and while there's a lot going on, this gown pulls it all together in an absolutely gorgeous fashion.