Great ideas for Entertaining your Wedding Guests.
Weddings are supposed to be fun. The average bride and groom to be might start to lose sight of this, in the planning process, but one thing that's guaranteed to bring them back to the idea of enjoying their wedding, is planning their reception entertainment. And of course The Wedding Directory has some ideas to keep it fun for everyone:
1. Caricaturist
Nothing is more fun than watching an artist at work, especially when they are creating a hilarious portrait of one of your guests. Caricaturists work fast so nobody gets bored, their results are funny and they make a lasting memento of a very special day.
2. Croquet
The famous Victorian game might sound sedate – but although it can be played in high heels and top hats – it can also be a cut-throat activity which demands cunning and teamwork. If your venue has a lawn, you can have croquet!
3. Sheep shearing
Yup, really. There are several organisations that provide teams of shearers and sheep, and if it doesn't sound the thrilling, then you've clearly never seen an expert shearer at work – it's funny, fascinating and the running commentary can be hilarious.
4. Cocktail stand
It's an old favourite, but there's a good reason for that, the combination of alcohol and the show-off performance of trained mixologists is like a cocktail in itself. There's an alchemy that produces something really special, not just a drink, not just a show, but both in one.
5. Mini zoo
Awww … little animals. There's nothing cuter than lovely little animals and while you don't necessarily want them yapping, squawking or rampaging around your ceremony, there's something truly wonderful about a few well-behaved beasts in a nicely contained area for your guests to get their David Attenborough on with.
6. Fire Poi
It may sound like an exotic fish, but actually fire poi is the art of swinging tethered weights to create geometric patterns with the burning flames. Ideal for an evening reception, fire poi actually work just as well in daytime and can be a truly dramatic entertainment.
7. Singing Waiters
Over 11,000 shows in 85 countries makes The Three Waiters one of the most successful surprise acts in the world. Their wedding performances have to be seen to be believed – fortunately some have been uploaded to YouTube so you can do just that. It's an utterly spellbinding entertainment which is perfect for a sit-down wedding reception.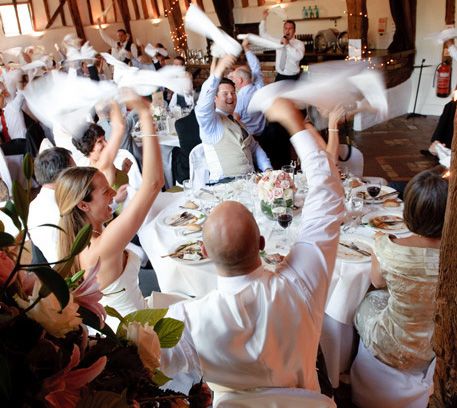 Cheap to free wedding entertainment
Not everybody has the money for big entertainment so here are three ideas to keep it fun without too much expense:
8. Pass the Parcel
Wrap up some silly little gifts in lots and lots of paper and pass them round the assembled guests. In between some sheets of paper put brightly coloured 'actions' such as dance like a Dad or pretend to milk a cow for the other guests to try and guess. Fun for all.
9. Wedding Charades
There are plenty of printables online which you can use to make table charades for your reception. These are great ice-breakers and because you can set the tone, you have the chance to tailor the charades to each table: innocuous where elderly relatives or kids are seated, a bit more risqué for the tables where your adult friends are gathered together.
10. Open Mic
We all have friends with talents, so this is the chance to let them shine! When you send out your wedding invitations make sure you add that there will be an Open Mic after the formal events and that every guest is encouraged to sing/dance/tell jokes/perform magic. Also ensure they know it's one song or dance, one magic trick and not more than three jokes … nobody likes a mic hog!