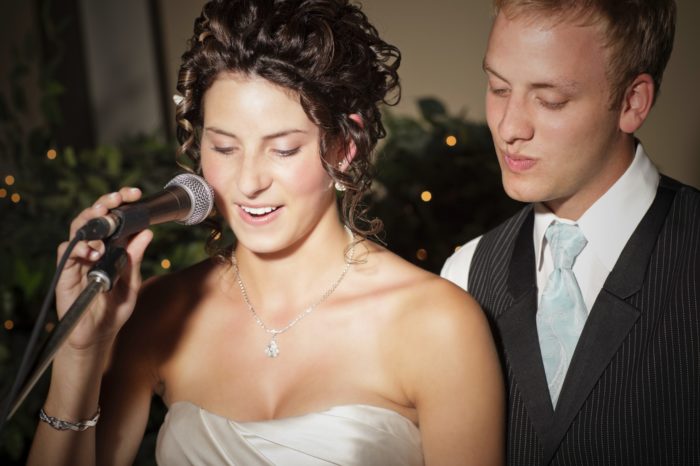 Few things are more daunting than being asked – or required – to give a wedding speech. Whether you're a parent, bride or groom, best man or chief bridesmaid, the idea of standing up in front of everybody and giving a wedding toast is a big deal.
Don't worry – at The Wedding Directory, we've got everything you need to give the perfect wedding speech, whether it's cute or moving, impassioned or funny.
Wedding speech order
Let's start with the nuts and bolts. While the strict rules are breaking down, and you can do whatever you like at your own wedding, the traditional order of wedding speeches is: father of the bride, groom, best man and then other toasts. The wedding speech itself depends on you, and your personality. Some fathers of the bride can pull off an emotional speech, while others do better with Dad jokes. Some brides and bridesmaids are thrilled to stand up and speak while others really don't fancy it.
The perfect wedding speech
Wedding speech examples are as various, and personal, as the individuals who make them. The best way to deliver a perfect wedding speech is to do what feels natural to you. However, we do have some suggestions for quotes that will make any wedding speech sparkle.
Uplifting wedding quotes
For brides and grooms, funny can be a tough act to pull off, so thinking about finding something uplifting to say can be a way to pull your wedding speech together. From ancient philosophers to modern feminists, there's an uplifting quote that will meet your needs:
"Being married is like having somebody permanently in your corner. It feels limitless, not limited." ~ Gloria Steinem
"Being deeply loved by someone gives you strength, while loving someone deeply gives you courage." ~ Lao Tzu
"A happy marriage is a long conversation which always seems too short." ~ Andre Maurois.
Funny wedding quotes
Breaking up the intense emotion with a laugh can be a great way of bringing the wedding party together, nothing unites a big room like a wave of laughter. Of course, jokes need to be carefully judged on such a special occasion, so we've got a few funny wedding quotes that are guaranteed not to offend.
"To keep your marriage brimming with love in the loving cup, whenever you're wrong, admit it; whenever you're right, shut up." ~ Ogden Nash
"Marriage is a wonderful invention: then again, so is the bicycle repair kit."~ Billy Connolly
"Love is a lot like a backache. It doesn't show up on X-rays, but you know it's there." ~ George Burns.
Wise wedding quotes
When it comes to wedding toasts, wisdom is never wasted. Giving people a thought-provoking nugget to ponder while they enjoy the rest of the reception can be the most memorable moment in the wedding speeches, so here are a few truly enlightened wedding quotations to ponder.
"Love seems the swiftest but it is the slowest of all growths. No man or woman really knows what perfect love is until they have been married a quarter of a century." ~ Mark Twain
"One word frees us of all the weight and pain in life. That word is 'love.'" ~ Sophocles
"A successful marriage requires falling in love many times, always with the same person."
~ Mignon McLaughlin.