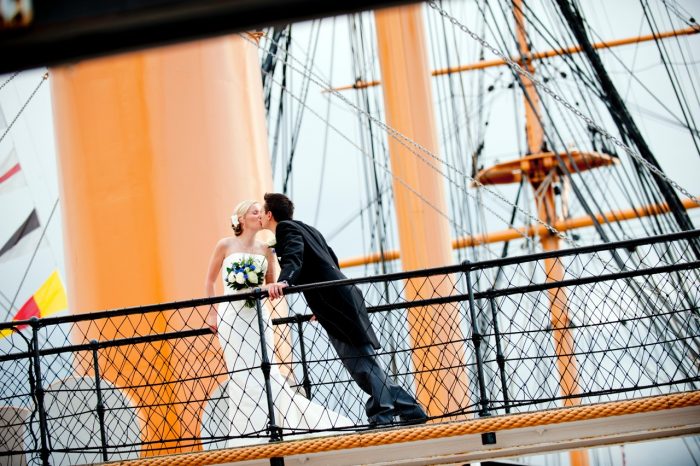 Ever since Richard Gere swept Debra Winger off her feet in An Officer and A Gentleman, many brides have had a secret hankering for a Navy wedding. Sadly, unless your partner is a serving Naval officer, there's very little opportunity for a wedding ceremony in Dress Whites, but you can still get married on a battleship!
HMS Warrior, now permanently docked at Portsmouth Historic Dockyard, is one of the most romantic
wedding venues imaginable … from arriving at the dock, where you and your guests are waved through the gate by uniformed naval ratings, to the choice of venues for your ceremony, there's something completely unique about getting married on this battleship.
Launched in 1860, when Britain dominated the world through its naval prowess, HMS Warrior is part of our maritime heritage. As a floating example of the grandeur and complexity of Victorian engineering, she's a powerhouse, but she's also a beautiful, romantic vessel, redolent of centuries of history and rich in stunning visual details that make wedding photographs unique. Because she was powered by both sail and steam, HMS Warrior is simply beautiful … nothing could be more picturesque than the gleaming decks, elegant rigging and views over the harbour that will be the backdrop to your big day.
A wedding at sea – or at least on board
Many romantic movies inspire thousands of photographs of couples on beautiful ship. Few though, actually have the opportunity to get married on a sea-going vessel, so there's something truly idyllic about the idea of a shipboard wedding. For couples marrying on HMS Warrior, there are two very different ceremony venues:
The Captain's Cabin – ideal for small weddings with up to 25 guests, the Captain's Cabin can also accommodate a string quartet or other live musicians and combines glowing wood and brass with an atmosphere that can be solemn or light-hearted but is always intimate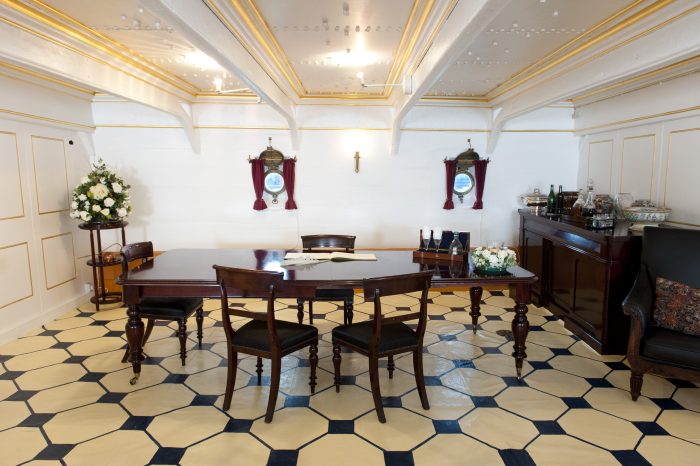 The Officers' Half Deck – for bigger wedding ceremonies, the Officers' Half Deck is an open air venue that can handle up to a hundred guests. Complete with masts, decking and ladders, this part of the ship is perfect if you want to celebrate with a crowd!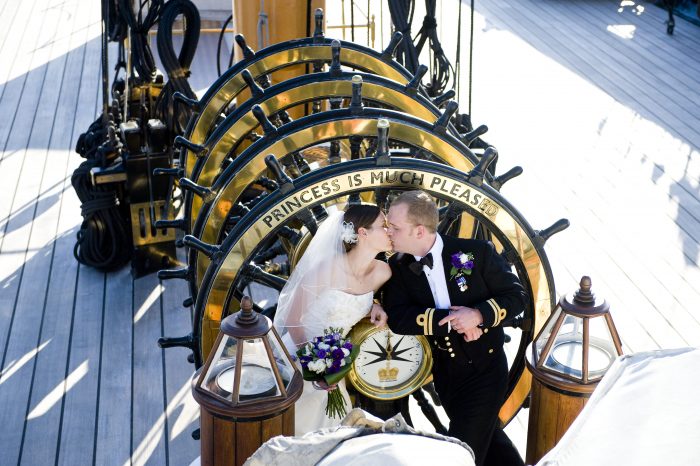 Whichever venue you choose, HMS Warrior offers incomparable experiences for you and your guests, including being served Warrior champagne with the Captain's compliments and having the area of the ship you've chosen closed to the public to allow you to take photographs and share moments with those you love. The ship's company  is on hand to make your day truly special and for those who choose an afternoon
ceremony there is a mandatory evening reception – what could be more exciting than partying on a battleship!
Next steps to a battleship wedding
If you like the idea of getting married in a truly unique venue, rich with special associations and full of fantastic details, your next step is to contact HMS Warrior to find out which days and times are available for your wedding ceremony.