Bridesmaid's duties… you'll be surprised at some of these!
It can sometimes seem that being a bridesmaid is becoming a vocation, but the history of bridesmaids' duties can be a real eye-opener!
The well known duties include:
• buying their own bridesmaid's dress (this really varies from place to place) and wearing it with good grace, even if it is not the style they would necessarily choose themselves. This probably includes spending more time than you planned trying to hunt down the perfect dress to suit all the bridesmaids
• contributing to the hen party – and that means both putting your hand in your pocket for costs and coming up with ideas to make the event special, like quizzes and games
• helping with the wedding planning – especially as so many brides are now personalising their events. You might be asked to help respond to RSVPs, choose the menu, stuff envelopes, create bunting or help make wedding favours.
• attending a whole range of events from that hen party through to wedding rehearsals, helping the bride to shop for shoes (and maybe her dress, depending on her family circumstances), keeping her company while she tries out her wedding up-do … all kinds of activities that a bride might want to have some female support for, and input on
• coordinating make-up etc for the big day – which might mean getting your nails done together or collecting items like accessories or flowers to free up the bride and maid of honour to do other things
• being on hand on the wedding morning to help the bride get ready (and to appear in the pre-wedding photos), share a few special moments with the bride (and maybe a quick glass of champagne) and then head for the ceremony in time to greet her when she arrives
• hosting your table at the reception, by being the happiest and friendliest guest and making everybody else feel like they are the most important person in the room (although of course, the bride is!)
• keeping an eye on the bride at all times, ready to jump in if she looks like she needs a tissue, or a break, or her glass filling or just a quick smile of reassurance.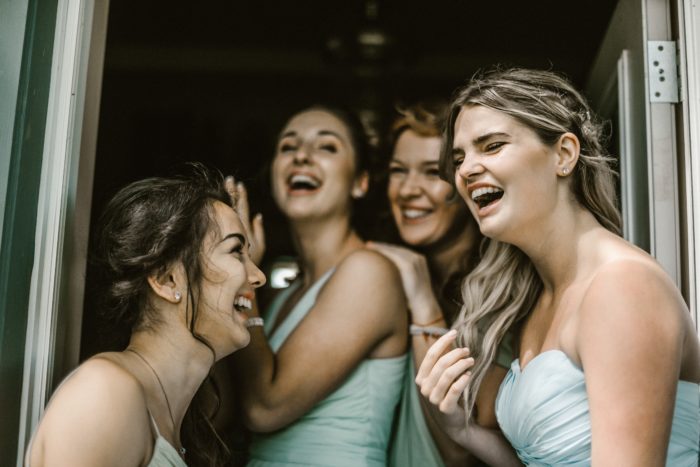 But there are other responsibilities that may never have occurred to you and will definitely surprise you:
In Turkey, the bridesmaids all sign the bride's shoe. The one whose name is rubbed out first will be the next one to walk down the aisle. What we can't work out, is how they check. Perhaps the bride sits down every half hour or so and the bridesmaids gather around and check her soles!
In several cultures, the bridesmaids lead the bride to church, while the groomsmen lead the groom. The reasoning is different in each case: while the groomsmen are there to protect the groom and stop him being attacked, the bridesmaids are there to confuse evil spirits who might try to steal the bride away – this is the origin of all the bridesmaids dressing alike as it was believed that this would prevent demons knowing which girl was their target. More prosaically, when brides used to travel long distances to get married, and their families were paying dowries, then stealing a bride could also be quite lucrative, which is why she and her bridesmaids dressed similarly. Nobody seems to know what happened if the kidnappers got the wrong girl … but it certainly puts wearing a meringue-like dress into perspective.
In China, bridesmaids still have the traditional duty of drinking toasts of rice wine on the bride's behalf, to stop her getting drunk as a result of the many toasts called for by guests. In fact this has become such a high risk area that some wedding packages include professional bridesmaids who do the drinking on behalf both of the bride and her 'real' bridesmaids.