Weddings in Norfolk are very popular as it is such a romantic county – from the famous St Valentine's Day fair to Ludham's Lover's Lane, and of course, Norfolk is the home of the first ever Valentine's Day card. To stand out amongst such lovey-dovey records, requires an outstanding reputation but that's exactly what you can expect of the Knights Hill Hotel & Spa on the outskirts of King's Lynn. Alfred, Lord Tennyson in his poem, Marriage Morning, talks about,
 "Light, so low upon earth,  You send a flash to the sun.
   Here is the golden close of love,  All my wooing is done."
He could have been describing the Knights Hill Hotel. This premier Norfolk wedding venue sits high enough to offer astonishing views right across the county to the Wash. Sensitively converted from a 16th century farm manor with barns, this venue gives a range of options for every wedding.
The location is wonderful for any bride wanting a wedding in Norfolk. And, the versatility of the venue is particularly significant. It is just as suitable for a reception following a church wedding as it is for a full weekend including a civil ceremony and formal dinner.
Civil ceremonies Norfolk
Many brides choose a civil ceremony because it allows them to marry in a place that is significant to them. Others choose a venue that is especially beautiful, or which gives them the opportunity to expand their wedding theme. Knights Hill is popular because it has three licensed civil ceremony venues. The Admiral's Room seats 16. The Garden Brasserie seats 40 and The Small Barn seats 90. This makes Knights Hill ideal for any size of ceremony.
The famous walled gardens and elegant terrace offer breathtaking backgrounds for your wedding photographs. The hotel offers 79 bedrooms, superb catering and dedicated wedding packages,  simply perfect for even the most demanding bride. If your wedding means that you need to accommodate guests, the Knights Hill Hotel might be the answer to your dreams.
Receptions in Norfolk
For couples who prefer a church ceremony followed by a celebration, Knights Hill Hotel also provides a fantastic range of reception options. For example the Knights Barn complex which can cater to 250 guests is an impressive medieval venue hosting exposed stonework and immense wooden beams. A true feast for the eyes as well as a feast on the tables! Because the barns can be divided, this venue works wonderfully for smaller weddings which need not feel dwarfed by the Great Barn, fitting comfortably instead into the aptly named Small Barn.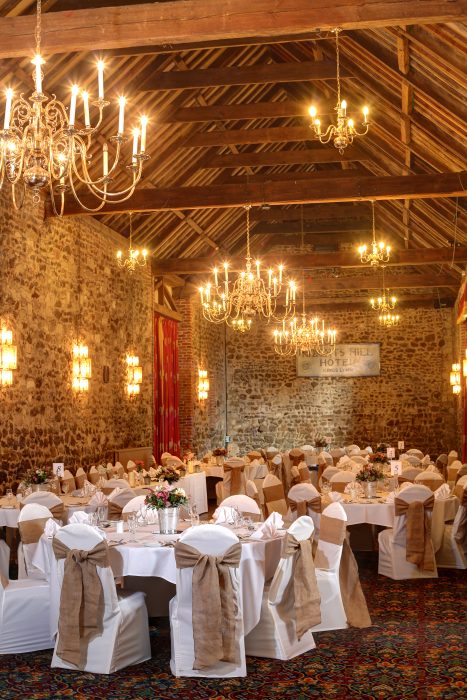 Quite different in approach is the Garden Brasserie and Bar. This intimate sophisticated venue can seat 40 for formal meals or 60 for buffet catering. The Garden Brasserie offers unparalleled views of the walled garden and is available until 5.30pm daily.
So whether your wedding in Norfolk is small and intimate or big and bustling, the Knights Hill Hotel is certain to have exactly what you need. With its powerful architecture, romantic walled garden and rolling parkland it serves as a glowing background to any wedding day.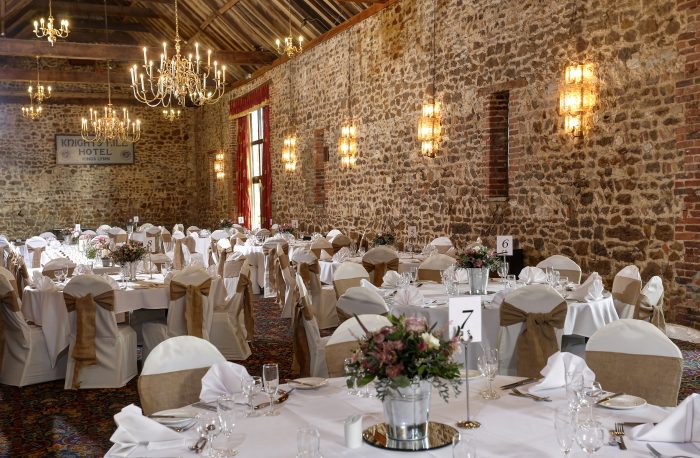 South Wootton, King's Lynn, Norfolk PE30 3HQ
 Website: www.knightshill.co.uk                                                                              Telephone: 01553 675566