Second time around weddings – go for it!
Second time around weddings are a fairly recent development, so the etiquette was never as clearly defined. Given how relaxed dress codes have become for any wedding, it can be difficult to know how to work out what to wear for your second special day.
The first thing is be confident that your desires, wishes and dreams are just as valid second time around. If you didn't get the wedding of your dreams the first time, there's no reason not to go for it now!
Here are a few useful principles to remember:
Be as extravagant or laid back as you want – just make it clear to your guests how you're playing your wedding so that they can dress accordingly.
Don't be dowdy – sophisticated style is the keynote for second time around brides, which for many means a glamorous gown, a designer two-piece suit or a themed wedding (for example themed to a colour, a musical style like Swing or Rock and Roll, a favourite show or even to an activity as described in our section on vow renewals).
Trust your experience – most second time around brides have a clear understanding of what works for them, so use that knowledge to pick an outfit that really flatters you and in which you'll feel comfortable.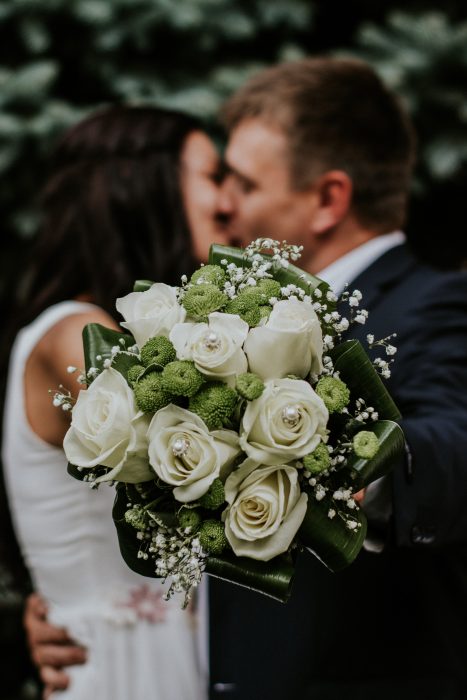 When it's your first wedding but your partner's second
Things get a little trickier when it's your first wedding but your partner has walked up the aisle before. It's understandable that you want the perfect wedding but it's also important to understand that your partner's previous experience is bound to influence how they view this new wedding day. You may feel that you're not getting the chance to be 'first' and that can be painful. If you have a good friend to talk to, express your feelings to them rather than to your partner. But make sure you fulfil your own dreams – having an honest conversation about your desires can be balanced by asking your partner what their previous experience taught them about a wedding day and drawing on their knowledge to avoid pitfalls in your own day.
When it's your partner's first wedding but your second
When you're second time around but it's your partner's first wedding it's important to be sensitive to their feelings. There's no doubt that second time around gives you a much more relaxed perspective but you can't expect your partner to share your experience. Let them have their way, but when your history will help to smooth the path, share it.
Vow renewals
One big growth area in second time around weddings is vow renewals and these 'second weddings' where it's the same couple getting remarried can be huge fun. We've heard about vow renewals that are almost indistinguishable from formal wedding ceremonies to others, like a 30 year anniversary renewal that took place in a Crossfit gym with the guests in gym wear and with a fitness tournament instead of a reception!
Today a wedding ceremony is a clear statement about the couple and who they are, and that goes for their venue, their outfits, their vows and their subsequent celebrations.