If Paris is the city of lovers, London has long been the city of weddings … from its superb architecture to world class hospitality, from photo opportunities to ease of transport, London has been a popular choice for bridal couples from around the world. Whether you focus on the flower markets of Covent Garden and Columbia Road, the wedding dress designers of Chelsea, Kensington or Knightsbridge or the diamond merchants in Hatton Garden, London is a city that delights in making your wedding planning easy.
A special wedding venue for your most special day
Pretty well any wedding venue, London or Home Counties, has its advantages but few are as spectacular or well-suited to weddings or civil ceremonies as the Lansdowne Club. Built in 1763, by the renowned architect Robert Adam, the building has always been an architectural gem. Brides who have imagined themselves getting married against the backdrop of elegant, romantic decor have often had the Lansdowne Club's famous rooms in the back of their minds. With a range of glorious settings in which to celebrate your wedding, this venue is the natural home for a romantic celebration.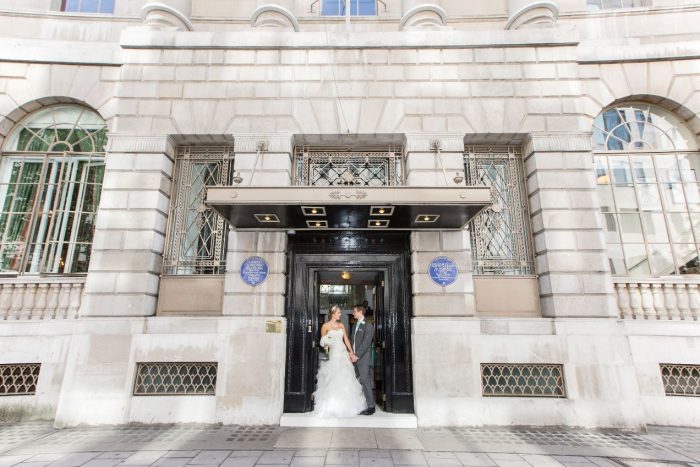 The ballroom – for grand entrances
With its vaulted ceiling covered in genuine 24 carat gold leaf and a minstrel gallery at each end of the room, the Lansdowne Club ballroom is amongst the most spectacular locations for a civil ceremony, London or worldwide! Ideal for those who plan to have a string quartet or live music at their wedding or civil ceremony, the ballroom easily seats 150 and creates an ambience of glamour, elegance and solemn purpose that is perfect for a formal wedding.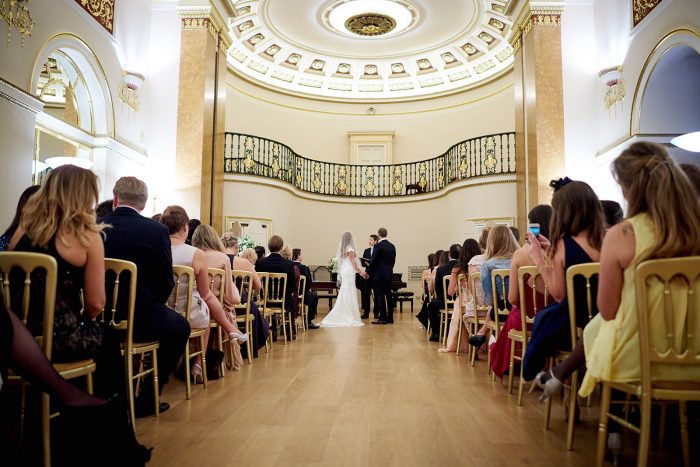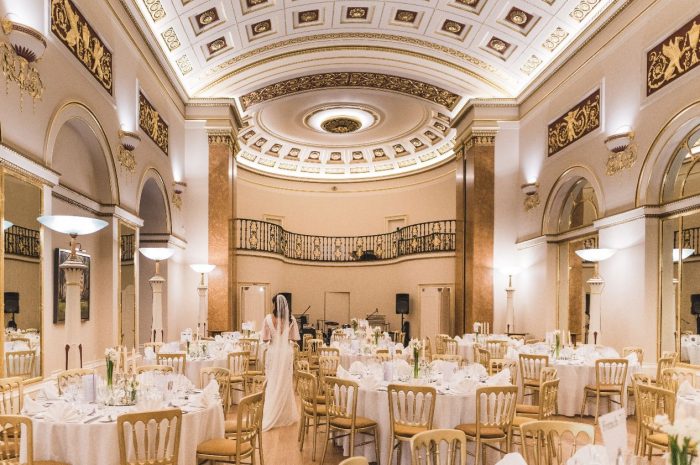 Adam Room – an intimate space for a civil ceremony
Designed as a drawing room, this setting has the intricate detailing of 18th century plasterwork, which is a little like walking onto a wedding cake! A glorious open fireplace, which is lit for winter weddings and the most enormous genuine crystal chandelier give this room an intensely romantic feel. Holding up to 80 guests in comfort, it's very popular for second time around weddings and vow renewals. 
The Courtyard for pre-wedding drinks
Finding a London wedding venue with really good outdoor space can be a problem – but not at the Lansdowne Club. The courtyard is airy, elegant and offers a great open space in which guests can mix and mingle whilst feeling cool and relaxed. It also makes for a great outdoor area for some post-ceremony conviviality which is a great chance for your photographer to catch some candid moments.
Crush Hall – the perfect photo opportunity
The Crush Hall, with its elegant gilded mouldings, is at the heart of the Lansdowne Club and has traditionally been used as the ideal location for wedding photographs, especially the wedding cake cutting ceremony. It's such a popular feature that the Lansdowne Club provides a gorgeous cake stand and ceremonial knife to add the finishing touches to this significant moment in your wedding day. 
With the whole of London as a guest of honour and the Lansdowne Club as your wedding venue, any ceremony at the Lansdowne Club will be unique and memorable – part of a long tradition of glorious celebrations and unforgettable memories.
To find out more visit www.lansdowneclub.com or telephone 020 7318 6117