If you are looking for unusual wedding venues then we have a great selection to choose from. Here are 4 from the list.
Choosing your wedding venue is the most fundamental part of your wedding planning. Once you've established where you're going to get married, the decor, colour scheme, flowers, dress etc. should all fall into place.
Nowadays, with the more relaxed rules on where you can get married, wedding venues have branched out from the traditional choices of a church, hotel or stately home. Meaning, you can now get married in the most quirky and unusual places. From trains and ships to farms and caverns, here is our pick of some of the most unique wedding venues across the UK.
The Donkey Sanctuary, Devon
If you're a lover of animals, why not hold your wedding day at the adorable Donkey Sanctuary in Devon? Set amidst beautiful, scenic countryside and home to around 500 donkeys, this venue really is an idyllic place to say 'I do'.
As well as offering you a stunningly rustic spot for your wedding ceremony and reception, you'll also be making a meaningful contribution to the lives of donkeys in need – a win win venue for yourselves, your guests and the cute donkeys.
HMS Warrior, Portsmouth
It doesn't get much grander, romantic or unusual than saying your vows on an ancient giant warship. Situated in the heart of Portsmouth's Historic Dockyard, HMS Warrior offers an outstanding setting with flexible, spacious rooms to accommodate your wedding party.
Whether you decide to hold your special day in the captain's cabin or on the gun deck, you'll be surrounded my enchanting Naval history, which is bound to exceed your wedding day expectations in every way.

Carnglaze Caverns, Cornwall
This extraordianary wedding venue is sure to blow you and your guests away. Nestled in the picturesque Cornish countryside, Carnglaze Caverns offers four unique locations to hold your special day.
From the intimate Underground Lake, Enchanted Dell and Vine Conservatory to the Rum Store Cavern, which can hold up to 400 guests, this venue can accommodate the smallest or largest of weddings and really does deliver on the 'wow' factor.
'Weddings haven't gone out of fashion, they've just gone underground!'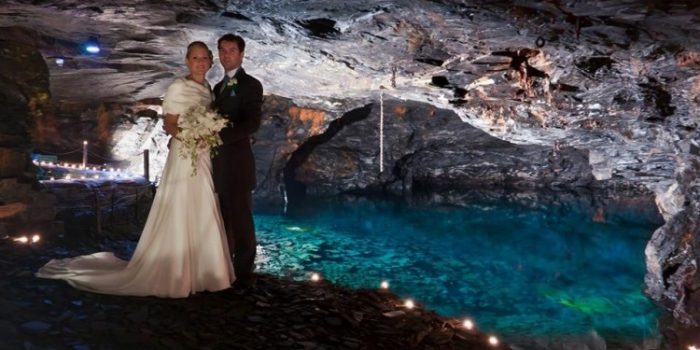 Twycross Zoo, Warwickshire
Twycross Zoo in Warwickshire offers one of the coolest and most unique backdrops to your wedding – magnificent scenery and wildlife.
Whether you decide to hold your big day in one of their lavish reception rooms or, opt for one of their more intimate areas, you are guaranteed to have amazing views across the Zoo (their Himalaya room overlooks the snow leopard enclosure!)
Spend your wedding reception admiring and feeding the animals before dancing the night away with your nearest and dearest.